Birthdays are always a joyous occasion and, getting birthday gifts is what makes it even more exciting.
I have always advocated my love for personalised gifts, and when I found about this website, called 'Birthday SongsWith Names' I was beyond excited. I was really excited.
It's a website where you can send birthday wishes, in the form of personalised songs. I already surprised my mother, for her birthday and she was really touched and excited at the same time.
So, let's dive into how you get your loved one a personalised birthday song?
There are two English songs two & Hindi songs to chose from:
The Traditional Birthday Song

Singalong

Baar Baar Din Ye Aye

Happy Din Aye
For Example:
Happy Birthday To you,
Happy Birthday To you,
Happy Birthday  Dear (name),
Happy Birthday To you
Or it can also go like this:
Happy Birthday To you,
Happy Birthday To you,
Happy Birthday  Dear (dad)
Happy Birthday To you
A very popular Hindi song, for birthdays 'Baar baar Din Aaye', is also at your disposal, to be personalised.
Baar Baar Din Ye Aaye, Baar Baar Dil Ye Gaaye
Baar Baar Din Ye Aaye, Baar Baar Dil Ye Gaaye
Tu Jiye Hazaaron Saal, Ye Meri Hai Aarzoo
Happy Birthday To You
Happy Birthday To You
Happy Birthday Dear (name)
Happy Birthday To You
So, now that you know, what to expect let's see how to do it, in a few easy steps!

Visit the website : BirthdaySongsWithNames.Com 
Image Source:http://birthdaysongswithnames.com/
You will notice all letters, from A to Z, on the top. Click on the initial alphabet of who you want to dedicate the song to.
I chose 'Z', and the same name because coincidentally, my friends name is  also the same 😉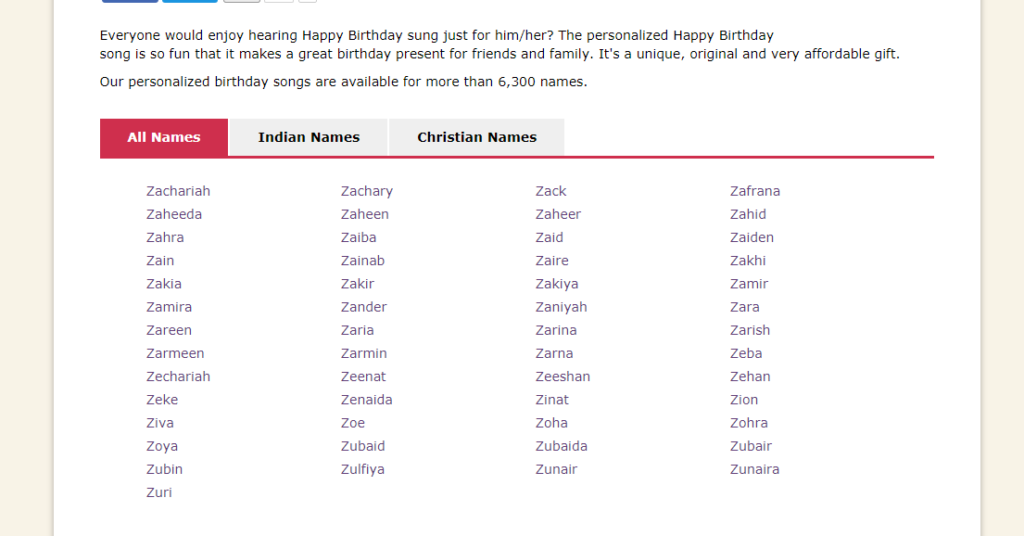 But, 'Zainab' is a pretty uncommon name, but you can see that they have so many names with 'Z' in their database.
4. Now, all you have to do is, click on the name you are looking for. Once, you do that- -your song is READY!!!! So easy, right!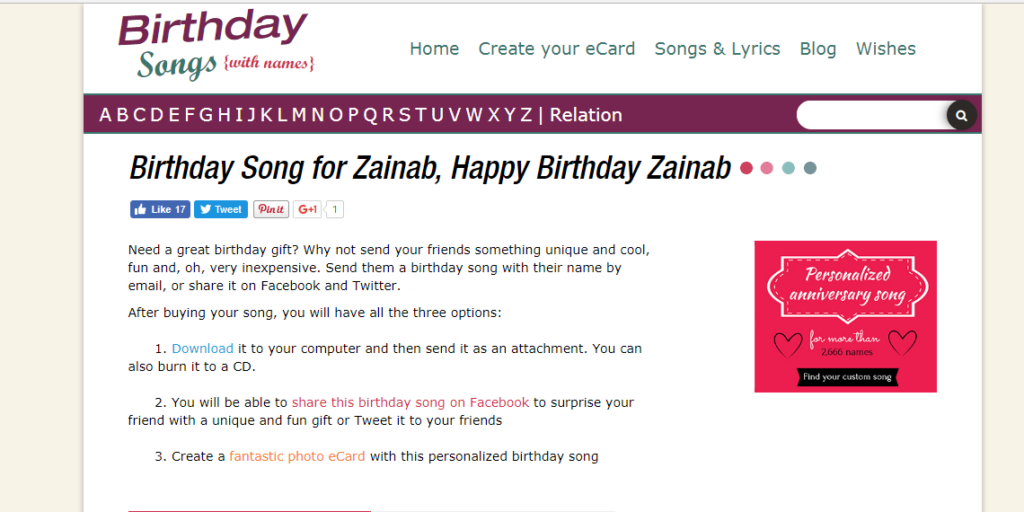 5. You can preview all three songs, and select the one you like the most, all three if it's for your best friend 😉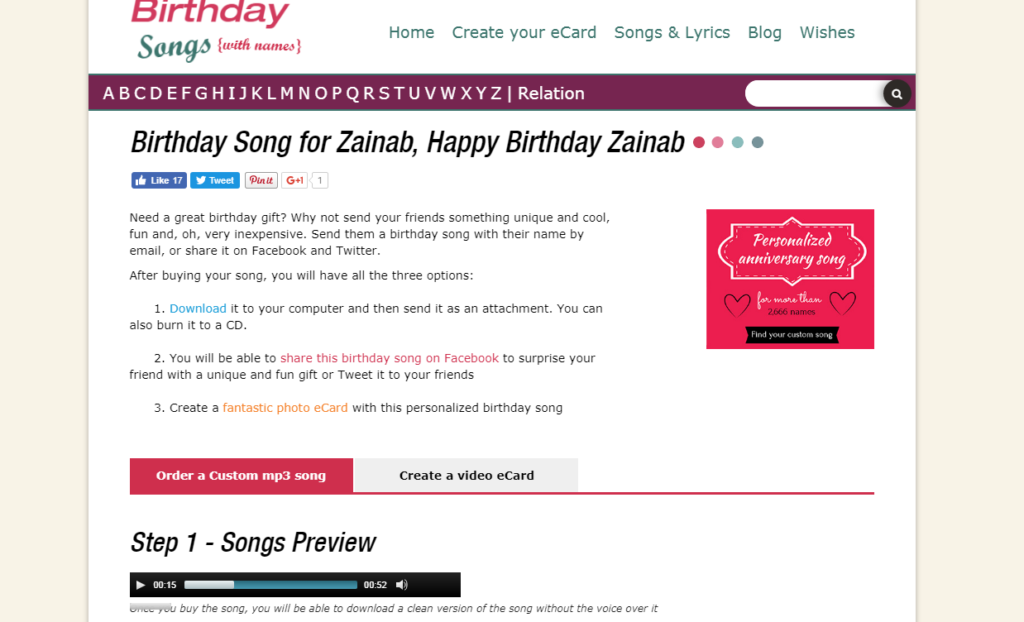 The prices are as mentioned below: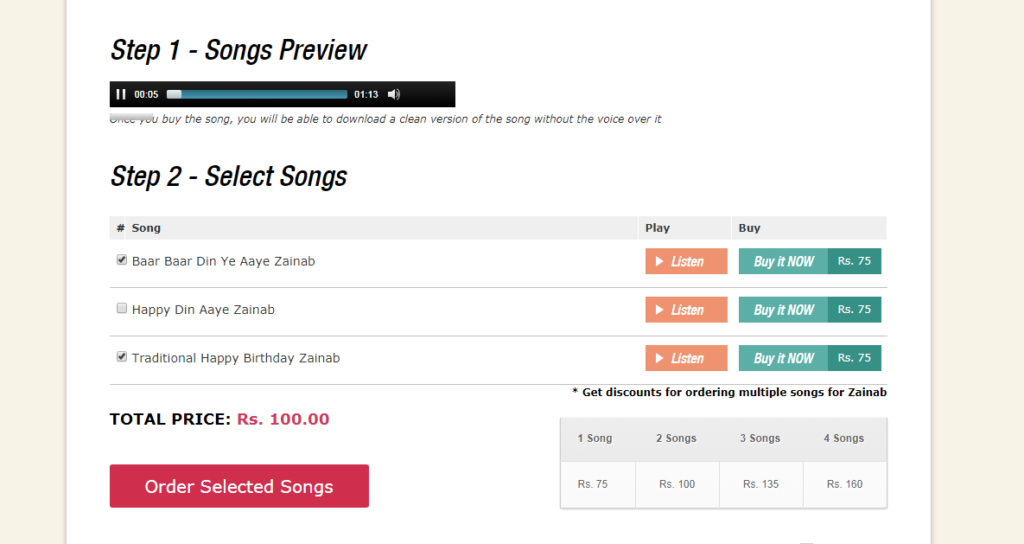 1 song =  Rs 75
2 songs = Rs 100
3 songs = Rs 135
Besides, there is video ecard service too, starting from Rs 200.
It's a good deal, and to top that it's all includes the name of your dear one.
How to buy: To buy the song, you will need to click on the Buy Now Tab. You can pay via Paytm, PayUmoney or Mobikwik.
And, the song gets delivered, right to your inbox!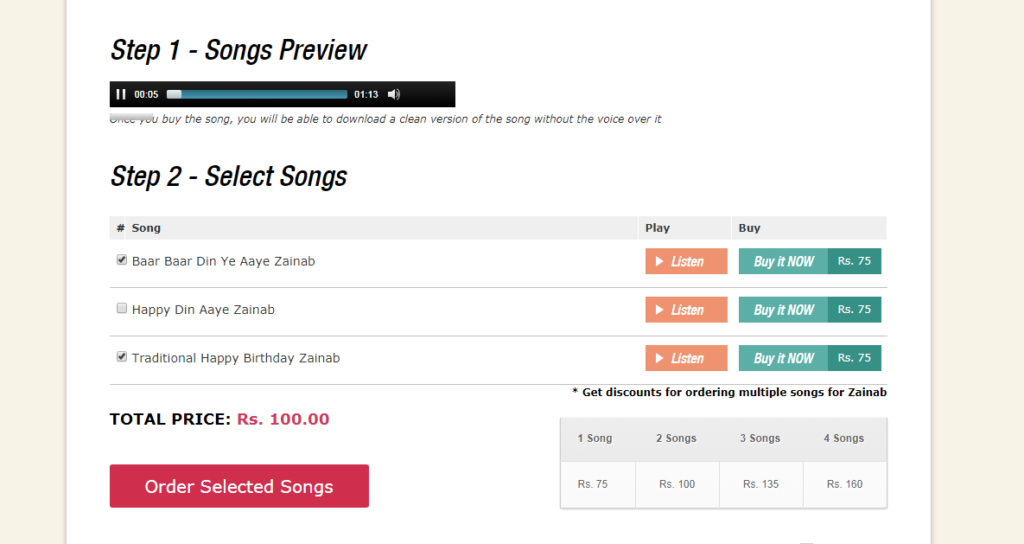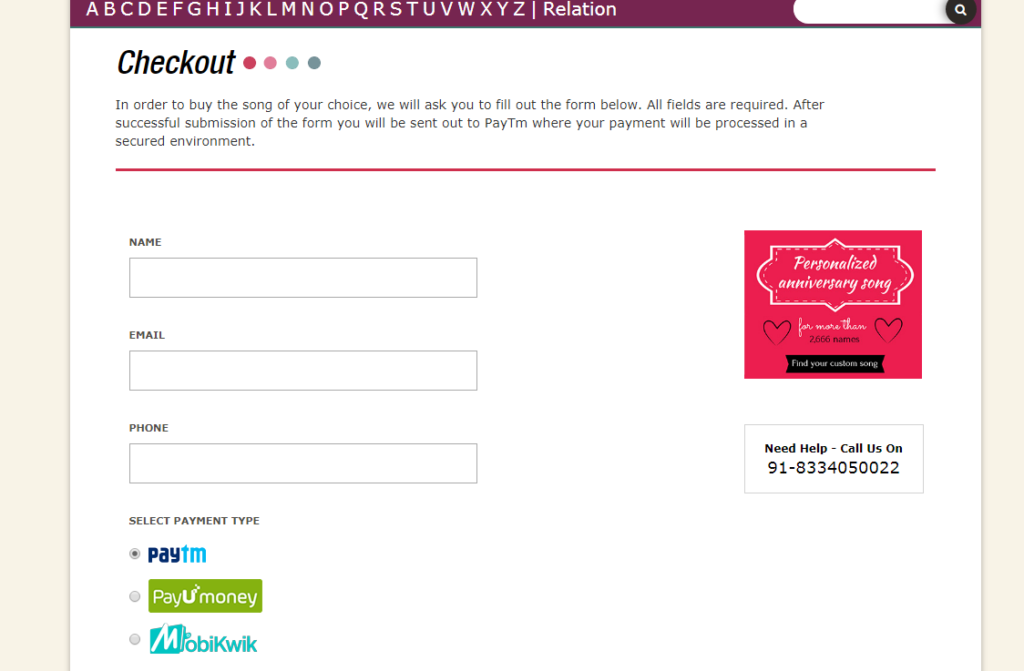 What if your friends name is not included in the lists of the names?
Well, in that case you need not panic. And, no you will not be asked to pay extra, if this is the case.
All you need to do is Request your name, which will take you the request form.
Is that not, wow?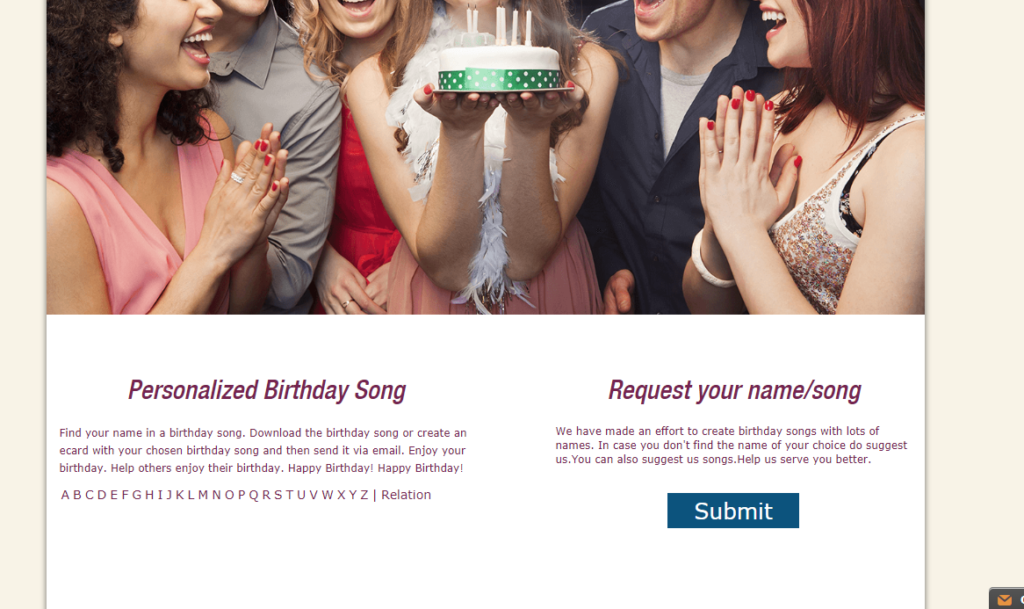 You can also browse the 'Relations' category and the song would actually play the same way:
You can find Chacha, Fufaaji, Tao ji, and  ofcourse Maa, Mummy, Ammi etc as well.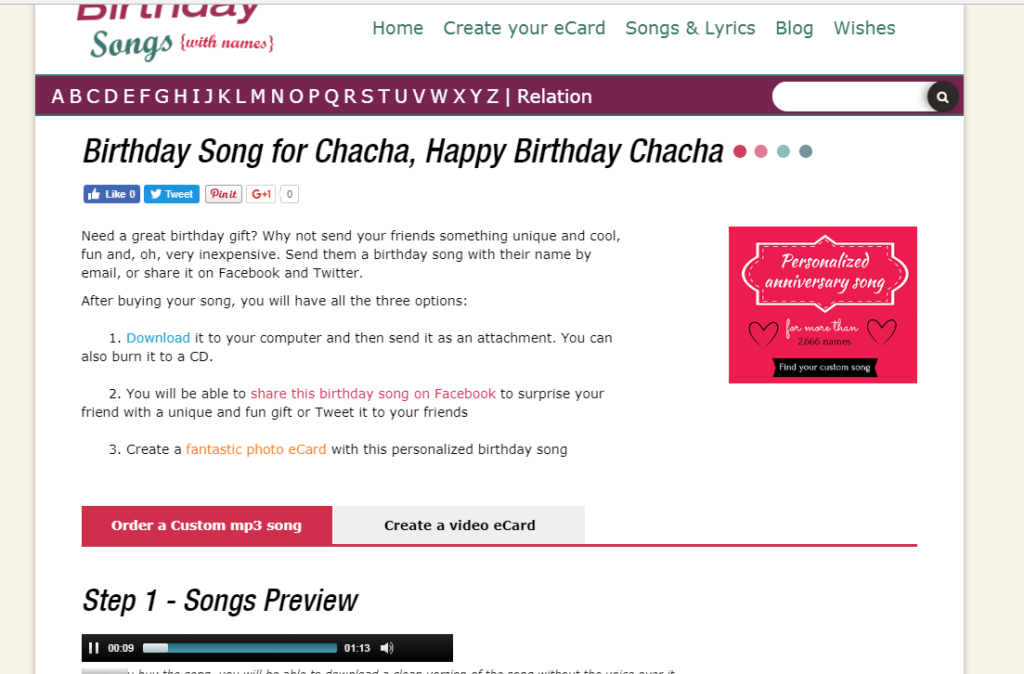 How about a photo ecard , along with the song?
 This website also,  offers  a personalised birthday ecard, feature!

All, you have to do is follow three simple steps, and  your ecard is ready.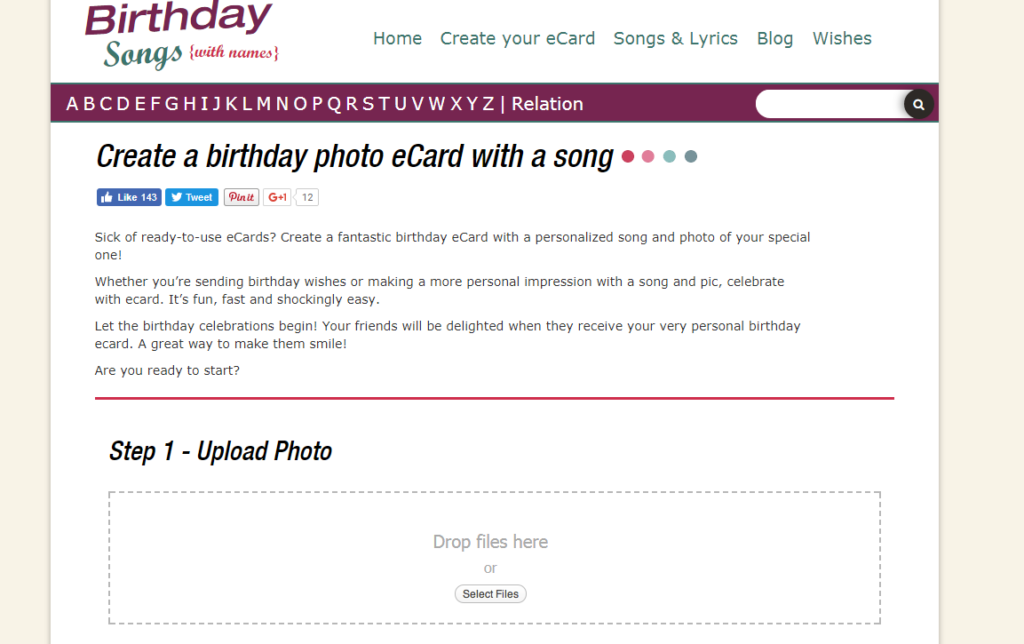 Once, this is done, you can select a frams &  download the song and add it in the card.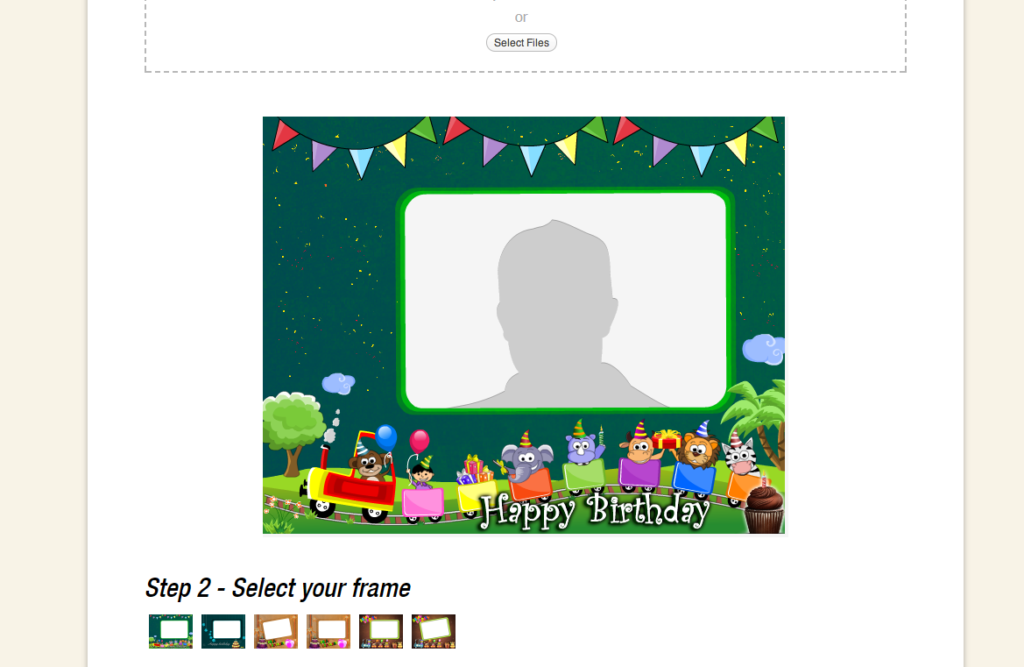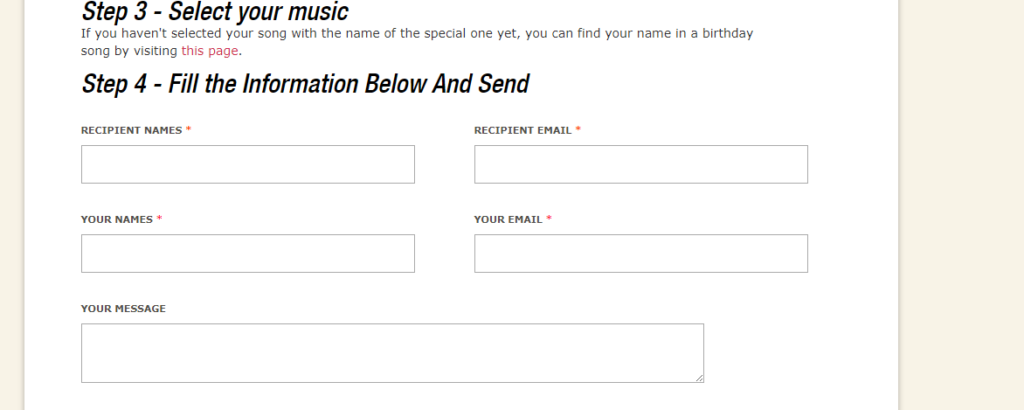 You can either send your e-card right then, or you can schedule it, for a later date, so its a win-win. Plus, it's very inexpensive and a small price to pay to make your loved one happy!!! Go visit Birthday Songs With Names now! 🙂

Note* This is a sponsored post, but all opinions expressed are my own!