When we move to a new house, it is a  very special occasion, right? And, a housewarming party, is definitely needed to complete the excitement.   Yes, it requires you to be vigorous but in the end, it's rewarding. Maybe, you are moving to a new home, or perhaps a close friend or a family member.  
Let's be real. We all love gifts, and if it's something for your new home, make it even better. It could be for their home, or something personal. But, the former is a better idea, as, after all, it's their housewarming present.
Housewarming Gift Ideas
For now, let's focus on what easy yet useful options you have to gift your close ones, on the even of a new home? I personally feel that the gift should not only be special but also be pragmatic.
Towel Set
Well, we all use towels, in our daily lives. Useful and the kind of quality you decide to buy can add the extra jazz to it. A towel is a good investment because it will never go waste. And, when the home is new, it's natural to use all things new.
Another, benefit of towels is that they are very versatile. A set of kitchen towels or even bathroom towels will work.
Kitchen towels are more practical, as it would cover for the whole family
Wall Hangings
A friend of mine just got married and I wanted to give them something really special. While browsing the net, I came across Personalised Canvas Prints Online, the one-stop place for freezing your beautiful memories into life like frames.
It is really simple to order, and they have taken the check-out process to the next level, by introducing Paytm option as well.
To order, a similar wall hanging all you need to do is log into their website and make an account. You can even use your smart phone, for the entire process. That's what I did 😉
Once, you select the size, the next is the most important step. To upload the picture, that you want to be blow up and framed.
It allows you to edit, drag and shift (yes, even on the phone!!!) and the job is done in less than ten minutes.
Although, I would like to suggest, that try to upload two-three pictures and compare which looks better.
Filter options are also available, which I think is a fantastic idea. Makes your job easier. (Some filters are free, but not all)
And, if that was not it, the type of hooks can also be chosen. But, this is not free. Only, the basic one is free.
Check-Out
The check-out process is effortless and, you get regular emails for tracking your order.
The delivery was made within two days of ordering, and the packing was very sturdy and well protected.
The wall hanging was wrapped in plastic and it really impressed me.
Rates
Each size has a different rate. The one I ordered was 16 by 20.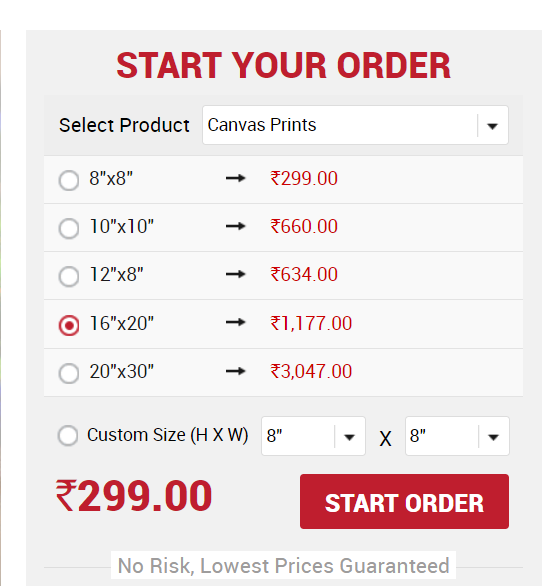 This gift will be great for the couple and, I think if there are more people staying in the house then adding a box of chocolate could complete your gift,
However, if the picture consists of all family members, then nothing else is required.
Table lamp
We all need lamps, in our homes. I know I would love it if I get a table lamp. Lamps can be used while doing make-up. It could even serve as a reading-lamp and help with late night readings without using the bigger lights.
Lastly, a table lamp can also be used as a cute decorative item. Just sitting on one of your tables.
Cutlery Set
All women love cutlery sets. Right? New home or not. The perfect cutlery on the perfect plates would just make a party memorable. Golden, silver and even wooden cutlery sets are available in the market.
Gift Cards
Yes, now do not roll eyes on me. It is natural to be indecisive, and a gift voucher is a perfect solution.
Nowadays, every online portal has gift cards and all you need to do is fill in the details, including the amount and email it to your friend.
Canvas Champ also has the gift voucher option. The process is the same,  you log-in to their website and chose the option gift card and done.
Make your friends housewarming special and buy them something, you would feel happy to receive. That's my mantra.
What would you gift your friends? What would you like to receive? I think I would love the all of the above.
Please follow and like us:
Leave a comment