Urinary tract infection or U.T.I,  has been making a lot of noise lately, and in worst circumstances it can even land you to the hospital.
It's always better to preventive measures and  avoid such diseases.   This is a common in women, and  it  can be easily prevented by following a few precautionary measures.

How do you get U.T.I?
You get .U.T.I  when outside bacteria, gets pushed into the urethra. Or, it can also be present in the bladder, and that's why it is important to flush it away.
Are you experiencing any of the following symptoms ?
Frequent urination

Feeling intense burn in the bladder area

Foul smell from the urine

High fever
These are some of the major symptoms, for the  U.T.I. Of course, it is advised to visit your doctor if you are in pain, but you can prevent, this by few ways.
Drink lot of water
The more fluids, you drink the chances of getting  uti reduces. You  will make multiple trips to the washroom, but  keep flushing out the 'bacteria'
Maintain Hygiene
Needless to say, it is so important to maintain hygiene, in the areas that are prone to the U.T.I. Also, make sure to wear breathable undergarments.
Cranberry Pills Or Capsules

Cranberry juice is something that will help you big time to keep U.T.I at bay. But, if you do not like the taste then a pill a day will definitely keep your U.T.I in check. These pills contain anti-adhesion properties, that prevent the bacteria from sticking to the bladder.
A few days back, I came across Zenith Cranberry Capsules, and it seems to be the best in the market, plus its strictly vegetarian.
[Tweet "A few days back, I came across Zenith Cranberry Capsules, and it seems to be the best in the market, plus its strictly vegetarian.#zenithnutrition #fitness #health #healthy #Supplements #Food"]
Description:
GMP assured quality

Supports Healthy Urinary Tract Function

Clinically Studied Ingredients

For Your Good Health

Dietary Supplement

Maintains healthy urinary tract function

Strengthens the entire urinary tract, including the kidneys, bladder, ureters and urethra

Promotes optimal immune response
Suggested Use
Two capsules daily or as suggested by a Health practitioner.
Price:
1080 INR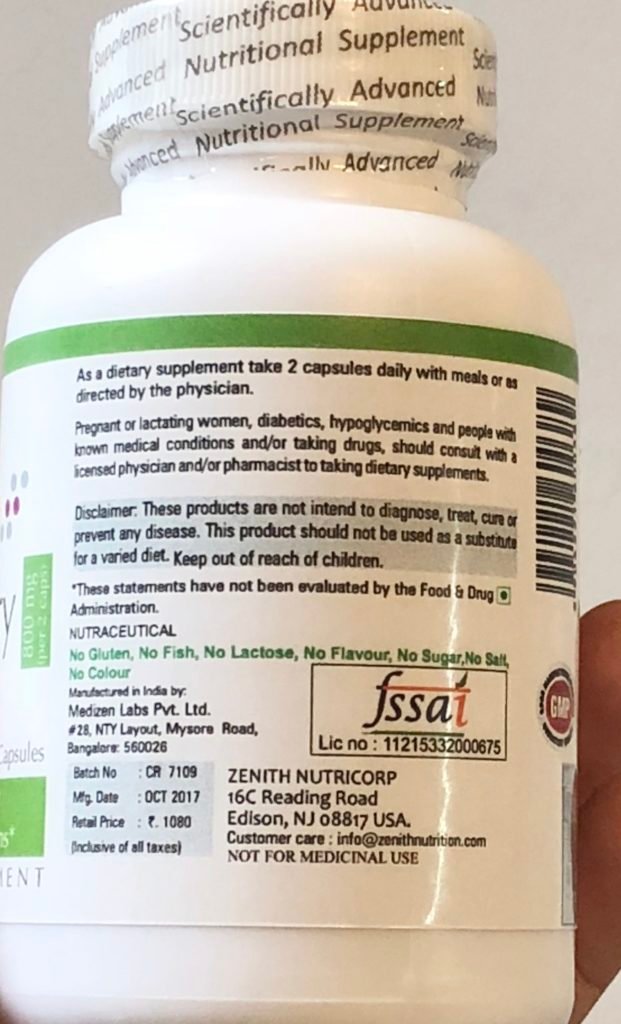 Warnings
If you are pregnant, nursing, taking any medication or have a medical condition, please consult your health care practitioner before taking any dietary supplement. Keep out of reach of children. Store in a cool dry place. Do not use if outer bottle seal is missing, torn or damaged in any way
These statements have not been evaluated by the Food and Drug Administration. These products are not intended to diagnose, treat, cure or prevent any disease.
You can order this for yourself on amazon. (click here)
Would I recommend it ?
If you have trouble in the bladder area, then this supplement by Zenith Nutrition is for you.  As mentioned the dosage, is two capsules a day. But,you can try with one or talk to your doctor for the same. Results  may vary from person to person.
Disclaimer : Always consult your doctor before starting any medication.

*Sponsored