I'm a huge fan of Epigamia yogurt and it made me super happy to receive  a package from them!!!
Thank you, so much Epigamia!
The flavors I received included raspberry, blueberry, strawberry and mulberry!
I love the fact that the ingredients are mainly fruits and the sugar added is very less! And, not to forget that the protein content is high!
I like to club my yogurt with a portion of  cereal for breakfast. Its about , about 250 calories with cereal and is really satisfying.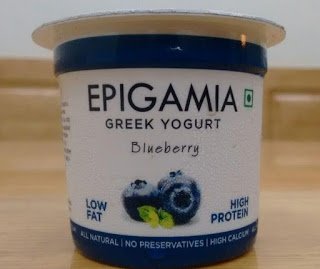 102.5 calories
As of now blueberry yogurt tops my list, love strawberry too but, mulberry not so much. I love to keep the desired yogurt in freezer, thirty minutes before serving. It then turns, into a delicious dessert 🙂
I love to add nuts, fruits, protein powder or honey to the plain Greek yogurt. This is an easy way to get in your fruits and some more protein.
If you like yogurts, then I would certainly insist that you give this a try 🙂Do you like Greek yogurt? What are your favorite flavors?