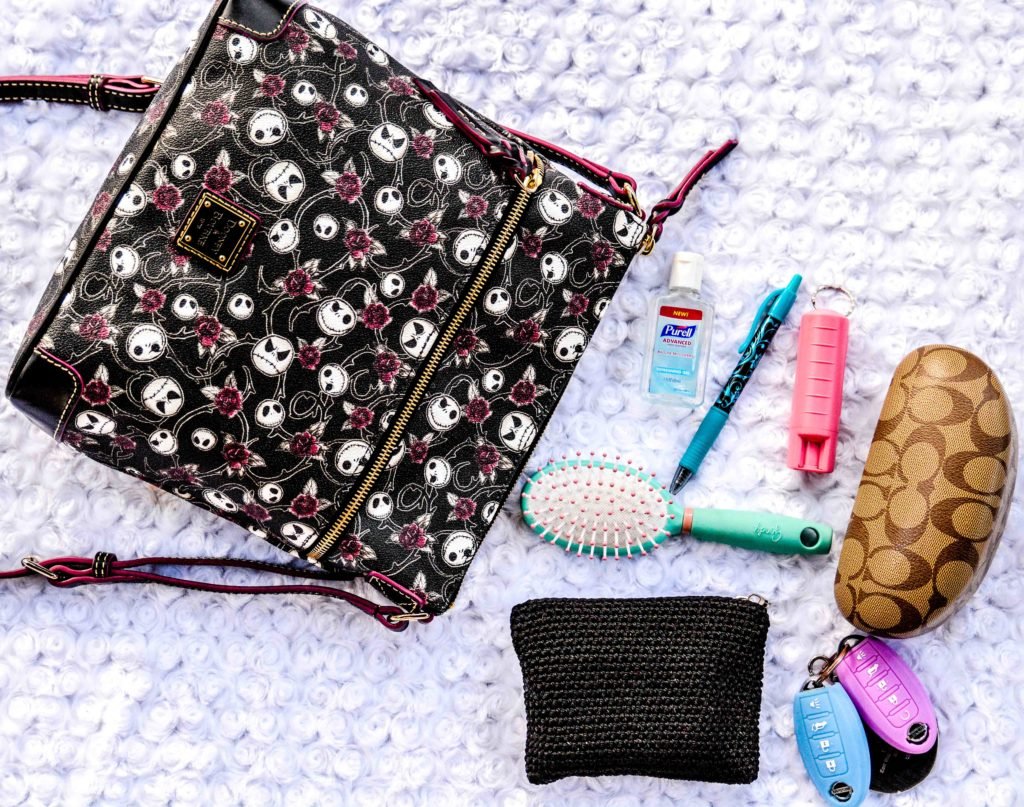 Hey! It's

Theresa

here. Wife, mother, crafter, chocolate aficionado, and part-time blogger over at

Theresa

's Mixed Nuts. Thanks to my dear friend Zainab for inviting me over today to guest post and share with you all what's in my bag.
Honestly, since my girls are both teens now and carry their own handbags, my bag has gotten A LOT lighter these days.
I used to carry around big totes to store all of our stuff, but have recently downgraded to smaller bags to accommodate the few items that I can't live without when leaving the house. 2 weeks ago I was toting around my favorite blue Marc Jacobs bag, but came across this utterly adorable Jack Skellington Dooney & Bourke bag on our recent trip to California and decided I had to have it. It comes from the new line of Disney products sold in the boutique store Disney Vault 28 found in the Downtown Disney shopping district. So, what do I keep in my bag? Just the essentials:
–Mini change purse to hold my cash and a few credit cards
– Coach Sunnies
– Hand Sanitizer
– Mini Hair Brush
– Keys to the cars
– Pepper Spray
*I usually carry a packet of gum too, but haven't replaced the pack we chomped through on the plane ride home yet. Also, my cell phone gets tucked into the side pocket as well, but I forgot to include it in the pic since it was on the charger.
See, I like to keep it simple these days. Just the basics to see me through most situations I could encounter on a trip out.
Thanks for letting me share what's in my bag with you today, and thanks Z for having me ♥

You can connect with Theresa on her blog & social media
Website:    http://www.theresasmixednuts.com/
Facebook  https://www.facebook.com/TheresasMixedNuts
Twitter    https://twitter.com/marison459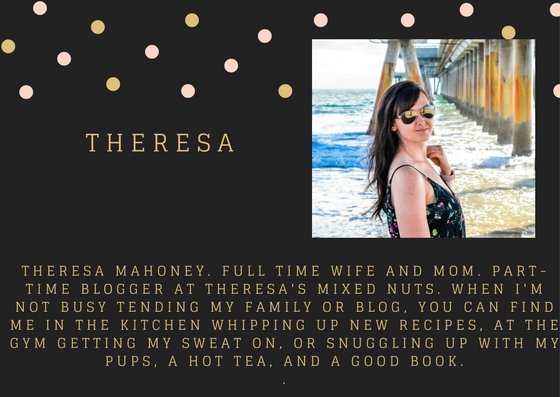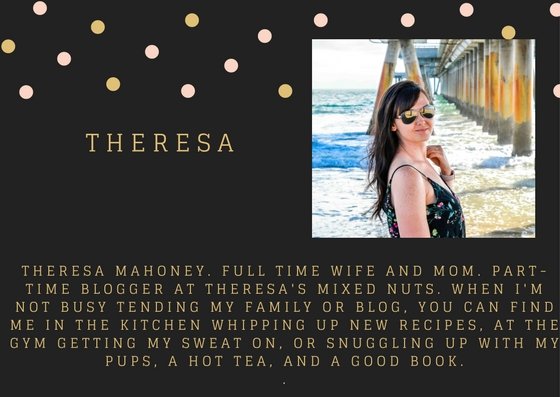 Mayuri says:
What's in my Bag? Oh, plenty!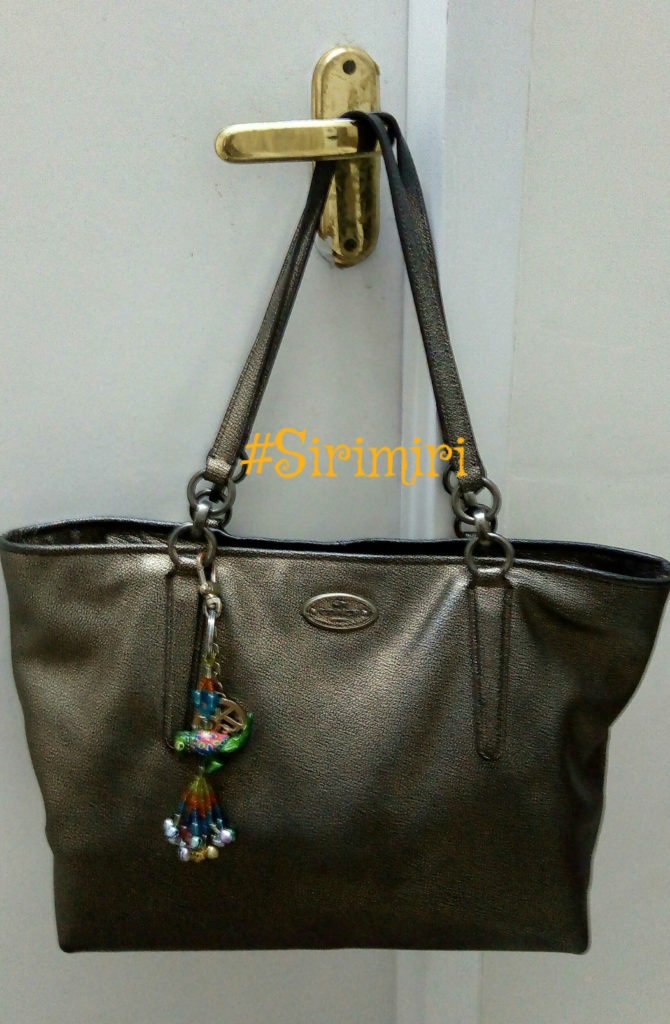 '…everything, but the kitchen sink!' is what a carry in my handbag. No surprises then that a Tote or a roomy Hobo is always my choice when I go bag shopping for an everyday bag.
I have been using this bronze Tote by Coach for a little over 2 years now. This bag has been through everything, from getting drenched in the rain, to being baked in the hot sun, to getting crushed in a crowd to getting yanked, when one of the handles caught a napkin hook. Despite which it is exactly the same as it was the day I bought it. One reason I never compromise on quality when it comes to my bag.
I do tend to switch bags now and again, which is why I just cannot do without a Bag Organiser. The organiser holds all my essentials and when I switch bags all I do is transfer the organiser. As simple as that.
What are my Essentials?
A Mirror: Many years ago I had an hour long conversation with someone who had spinach wedged in between her teeth. Those spinach bits horrified and fascinated me so much, that I could not concentrate on what she was saying. From then on I am paranoid about checking my teeth post meals. I also find a lot of women blissfully unaware of the fact that they have lipstick on their teeth. Carrying a mirror ensures that I am not one of those!
Pens: We all need pens. I have lost pens when I have lent them, so I keep buying them and sticking them into my bag.
Tissues and Wipes: A must have! I also have compressed pellets, that turn into a napkin when soaked in water. Yes, Sir! I take my hygiene very seriously!
Lippy and Kajal: This is a no brainer, right!
Cards: Visiting Cards, Store Cards, Credit Cards, et al.
A tiny Diary: There are times you need to scribble down something. Or scribble down something for someone else.
Emergency Medicine Kit: Ensures I am always prepared.
Mints: A no brainer, again!
Spoons: In my defense, I love going temple-hopping. and a visit to one most often ends with a bowl of Prasad being handed out to you. Hence the spoons.
Apart from the above, I always carry a little pouch with my prayer beads, Coin Purse, Kindle, Wallet and a lightweight Umbrella and a Stole. My Glasses and Sunglasses are my other essentials.
So that is what my bag holds. What about yours?
You can connect with her on her social media & blog
My Bag is like a hidden treasure
I love carrying big bags. I am sure many of you are going to agree with me on this that we need a lot of stuff in our bags. Don't we?
I like to carry a mini version of everything in my bag and for that of course I need a bigger bag. Now bigger doesn't mean that it can't be stylish. Right?
Big stylish bags are my favourite and even though I have many bags in all shapes and sizes, I can't resist buying new ones. In my bag, you will find the following things-
Small mirror

Hair brush

Lip gloss/lipstick or a lip balm

Kajal pencil

Sanitiser (You need it while going out with kids)

A small wallet for change and coins

Tissues (Wet and dry both as you might need them with kids)

Chewing gum

Sun glasses
These are few things which are essentially always there and there are additions depending on where I am going to carry that bag.
I love sling bags too as they are easy to carry and they are compact. For everyday use, I use sling bags to just carry my small wallet and keys inside.
While traveling with kids, it's a big travel bag which is like a hidden treasure where you need to search for things as half of the time there are so many things that it's difficult to find anything.
So, I like to carry these 3 types of bags and these are the usual stuff which I carry in them.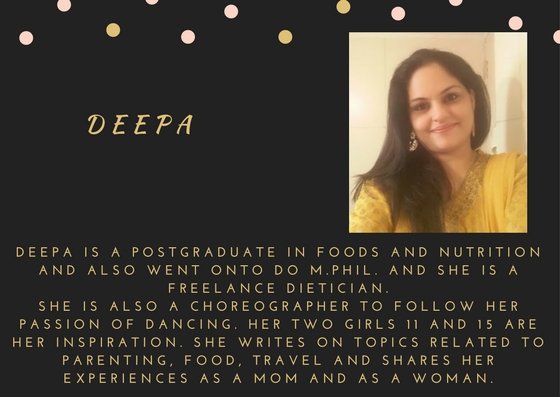 Shalini, shares

about her work bag
What's in my Work Bag?
My typical work day could comprise of an office day which could quickly get converted into a site visit too. For this reason, my work bag is one of the heaviest as I need it to multitask to suit my schedule. Oh I forgot to mention, I am an Interior Design Consultant.
So let's peek into this bag and see what goodies does it hold? Fair warning, I am a quirk hoarder and lust after pretty looking things which I then have to pick up.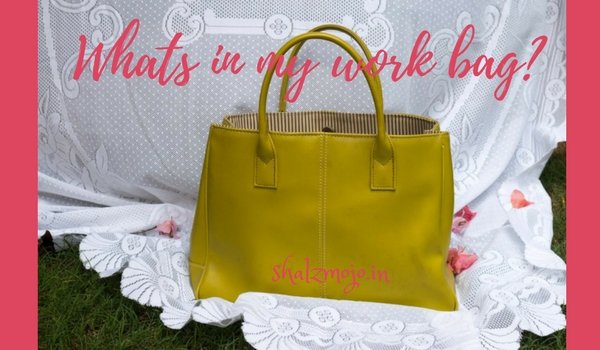 This is a funky green (oh my love for colours) carry-on bag that I happened to pick up from the street market in Singapore, many moons ago. I fell in love with its sturdiness and the colour of course. I loved the smart striped pattern on the inside of the bag.
Yup that's what the inside of it looks like and you bet your bottom dollar, this is one heavy duty bag. I love collecting small pouches of all hues and design as these are so convenient to pack my tonnes of stuff into. Makes switching a bag so  much easier as I have to do is take out the small bags and dump into a another handbag (tell me aren't I smart!!!)
A scarf to glam up my look (also used to wipe sweat if at site 😉 )

My wallet – it's got Kashmiri crewel work on it which I picked up from Srinagar.

A hairbrush

My I pad in its sturdy leather case

Portable Battery charger

A cloth carry bag (just in case I need to pop into a grocery store on my way back)

Another pouch with Kashmiri work which houses cables, etc.

A notebook to make notes (this one is handmade out of elephant poo paper – I swear, I kid you not!!)

Visiting card holder

Ok one more Kashmiri pouch which houses my day makeup and stationery items.

A bottle of water (I pop it into the fridge and put it into my bag just as I am stepping out)
Dabur Gulabari (it gets very dirty at the sites and I need this to freshen me up)

Can't do without my Samsung J7 phone

My coin purse

A kutchi worked spectacle case for my second pair of eyes (picked this up from Dastakar haat)

A hair scrunchy

My trusted Raybans (Whooooo!!! Aviators)
A tape measure, very important for my work at site. (This one is from Napa Dori)
I guess you would want a little peek into the three pouches as well? Why not – I got nothing to hide.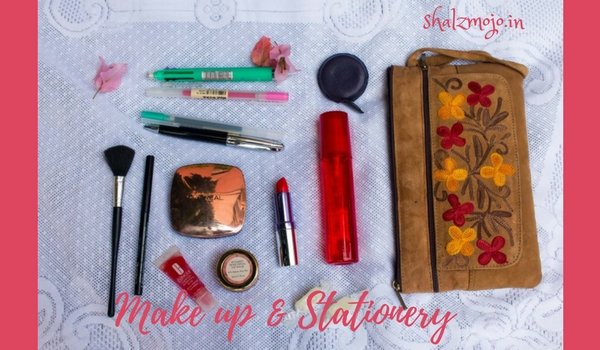 Make up comprises of a few sturdy essentials like:
Eau-de-toilet spray that I had custom made from a perfumery store in Kochi.

Blush & brush

Lipstick to match the outfit for the day (or simply my mood)

Kajal liner

Forest Essential lip balm (I just love this one)

Clinique lip gloss (to glam up my look)
Stationery is simple a few pens in different colours, a Shaffer's ball point and the tape measure. And I normally have some mint toffees (Fox's) for a little sugar rush!!!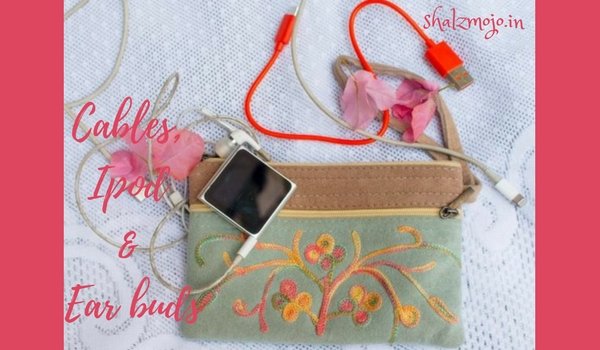 This one holds my IPod n buds (when I have to wait endlessly for my clients/vendors to turn up) and cables for charging the phone and pad.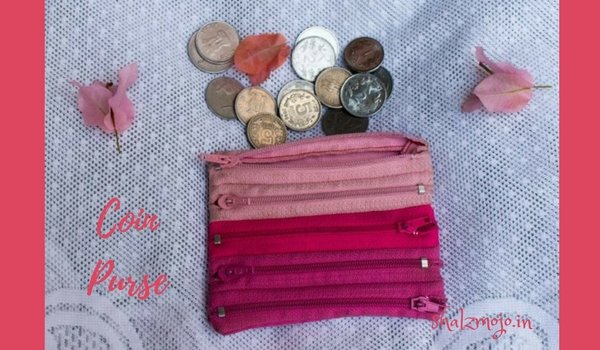 The coin purse that I happened to pick up from Kala Ghoda in Mumbai. I loved the fact that I can open it from any of the zipper to access the coins.
And last but not the least, my keys!!!
Well that sums up my work bag. I hope you liked peeking into it. What do you think of my eclectic love of all things handmade? Perhaps you would want some of these goodies?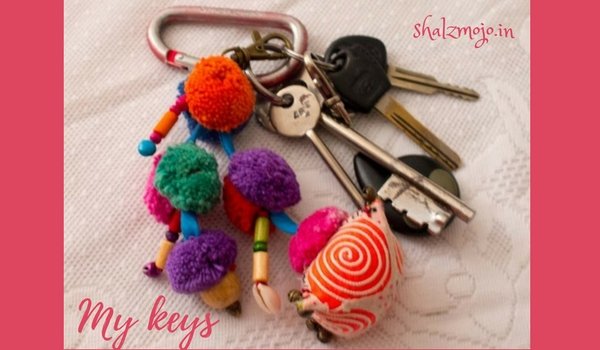 You can connect with her on her social media & blog
Leave a comment