Hi Everybody! Today I am filling in, doing a little guest post for Z, but first let me introduce myself. My name is Theresa and I blog over at Theresa's Mixed Nuts. My little corner of the bloggy world has a main focus on food, but I do occasionally share snippets of family life as well as family friendly travel destinations. If you have the time, swing by and say hi. I'd love to meet you!
Since I love food and love to share my favorites whenever I can, I told Zainab that for a guest post that I would share with her readers my husband's favorite Peanut Butter Strawberry Smoothie. I've enjoyed a good smoothie as far back as I can remember, but it took my husband a little bit longer to learn to love them like I do. Once he started playing around with his own smoothie ingredients, he came up with his own version that he claims is the best smoothie recipe ever. I don't know if I'd agree with him there, but it is pretty dang good.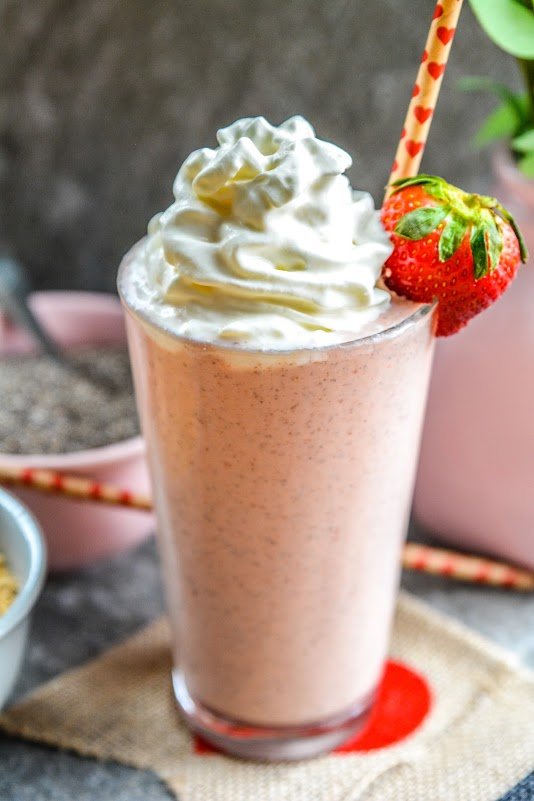 Peanut butter is a staple in our household. For us, it's one of the most delicious inventions ever made, so it was only fitting that my husband found a way to mix it into a smoothie. As soon as he's done with his daily workout, he'll head to the kitchen to whip up a glass. It's his treat for all the hard work he just put in at the gym.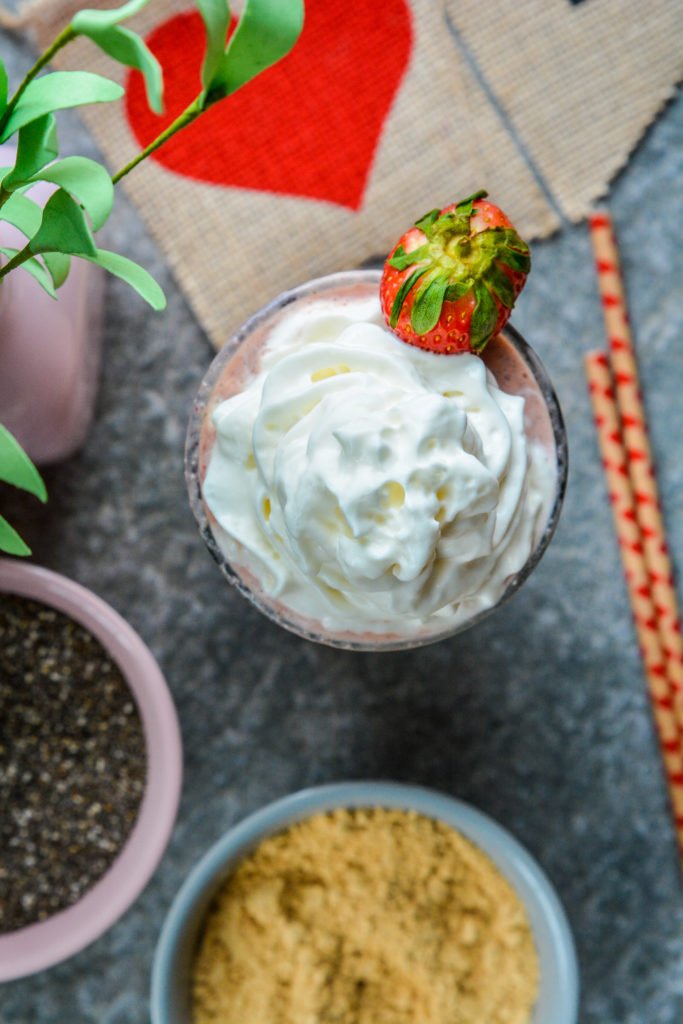 The peanut butter powder is a great source of protein (good for helping build up those muscles!) and the chia seeds are a great source of fiber. They also help keep your tummy feeling fuller longer so you don't overindulge in snacks before your next meal. Of course, you can omit the pb powder or chia seeds, or switch up the fruit any way you like. This is a great base recipe to start with. I'm sure the more my husband gets to experimenting with the blender, the more complex his smoothie recipes will become, but for now, this creation suits him just fine. I hope you like it too!
Author: Theresa M
Peanut Butter Strawberry Smoothie
INGREDIENTS:
8 whole frozen strawberries

1 cup strawberry Greek yogurt

3/4 cup vanilla almond milk

2 tbsp chia seeds

1 heaping tbsp peanut butter powder
INSTRUCTIONS:
Place all ingredients into a blender. Blend until all ingredients are smooth and combined.

Pour into glass. Top with whip cream and a sprinkling of more chia seeds if desired. Serve immediately.
Thanks again for having me Z! I hope you enjoyed today's post. If you liked this recipe, be sure to come by Theresa's Mixed Nuts for many more amazing recipes.