One of the fast developing cities of India, Gurgaon is a hub of trade, commerce, and industries that drive
the country's economy. But the city is not all about urban luxury and target-driven lifestyle. Beyond the
concrete boundaries of the megapolis, lies the bounties of its natural landscape, where the city often
takes a break. With hill stations, trekking trails, wildlife sanctuaries, lakes, and more, Gurgaon's
neighbouring regions offer a perfect platter of refreshing experiences.
Here are a few of them: 
5 Scenic spots to visit in and around Gurgaon
Sohna
This is a municipal district and a small town in Greater Gurgaon. The place got its name from the gold-
coloured dust that was once found here post monsoon. It is barely 25 Km from the city centre and you
can easily book an economical cab from Gurgaon to Sohna for a day trip. Sitting at the foothills of the
Aravalli Hills, the place is known for its hilly terrain and lush green landscape. A few of the prominent
spots are the ruins of Kamboj, Damdama Lake, hot water springs, and more. Hence developed as a
popular weekend getaway for travellers from Delhi and Haryana.
Sohna is also a popular attraction for the vintage car rally that is hosts every year in February. The event
invites famous car collectors and elites to flaunt their automobile assets from the good old days. If you
ever happen to be here during this annual festival, don't miss out on the display of vintage beauties like
the Rolls Royce, Aston Martins, Austin, and more.
Damdama Lake
If you are in Sohna then drive a little more till you land at the biggest lake of Haryana. An asymmetrical,
yet scenic lake, this natural water body is an ideal respite for the Gurgaon urbanites. Covering a
whopping area of nearly 3000 acres surrounded by clean water and abundant greenery, this is an ideal
spot for day picnics, field trips, and office excursions. There are plenty of adventure activities developed
in and around the lake area. You can try boating, rock climbing on the Aravallis, hot air balloons,
parasailing, or head out on the trekking trails that branch out from the river banks. For a more exciting
experience, you can also opt for a night camping on the banks and enjoy the open-air theatres held
occasionally. To truly experience the beauty of the lake, visit during winter when more than 190 species
of birds flock here for breeding and nesting.
Sultanpur Bird Sanctuary
One of the largest bird sanctuaries of the region, this is a perfect destination for a quick weekend
getaway from the chaotic city life. The Sultanpur Bird Sanctuary and the national park is home to the
most exotic resident and migratory birds. In winter, this sanctuary is thronged by more than 250 species
of birds who fly down all the way from Europe, Siberia, and Central Asia to breed and nest in the warmer
tropics. This is the perfect time to see Hoopoe, Paddyfield Pipit, Gray Francolin, Indian roller, Spot-billed
Duck, Great Egret or migratory birds like the Siberian cranes, Great Flamingo, Ruff, Northern Pintail,
White Wagtail, Common Greenshank, and Rosy Pelican. You can find a whole lot of tourists, birders,
ornithologists, and nature enthusiasts trying to spot any of these avian beauties.
The park also offers well-facilitated accommodation for weekend stays along with designated bird
watching towers. So, grab your cameras and binoculars and head to this paradise before these winged
travellers take off!
Manesar
Although this is a lifestyle destination, Manesar is growing to be a unique combination of natural and
man-made spectacles. For those who wish to experience the rugged, rural life, Manesar is the place to
be. With a rustic setting against the backdrop of the Aravalli Hills, you can enjoy the panoramic views,
while you enjoy an offbeat experience in the lap of nature. If you are craving for a quiet and comfortable
resort stay over the weekend, then definitely give this locale a try.
Neemrana
If you want to experience the flavours of Rajasthan without going deep into the state, then you can spend
a night or two at Neemrana. An ancient town located in Alwar, Rajasthan, Neemrana is easily accessible
via the Delhi-Jaipur Highway. The main attraction of this place is the Neemrana Fort. It is said that in
1464, Rajput ruler Prithvi Raj Chauhan III had his administrative base in this fort. The 15th-century fort is
now turned into a lavish heritage retreat, which makes for the ultimate experience of the town. The
massive structure is flanked by hills and bluffs and one of the most finely manicured gardens that you
would ever find. Sitting atop a small hillock, you can get a 360-degree view of the neighbouring towns and
villages. Feel like a royal for a day with lavish services and the delectable Rajasthani cuisine. You can also
head to Kesroli from here, which is another heritage site.
This season, get a reliable AC car on rent in Gurgaon (because the heat has started picking up) and
explore any of these offbeat places near the city and experience a refreshing weekend!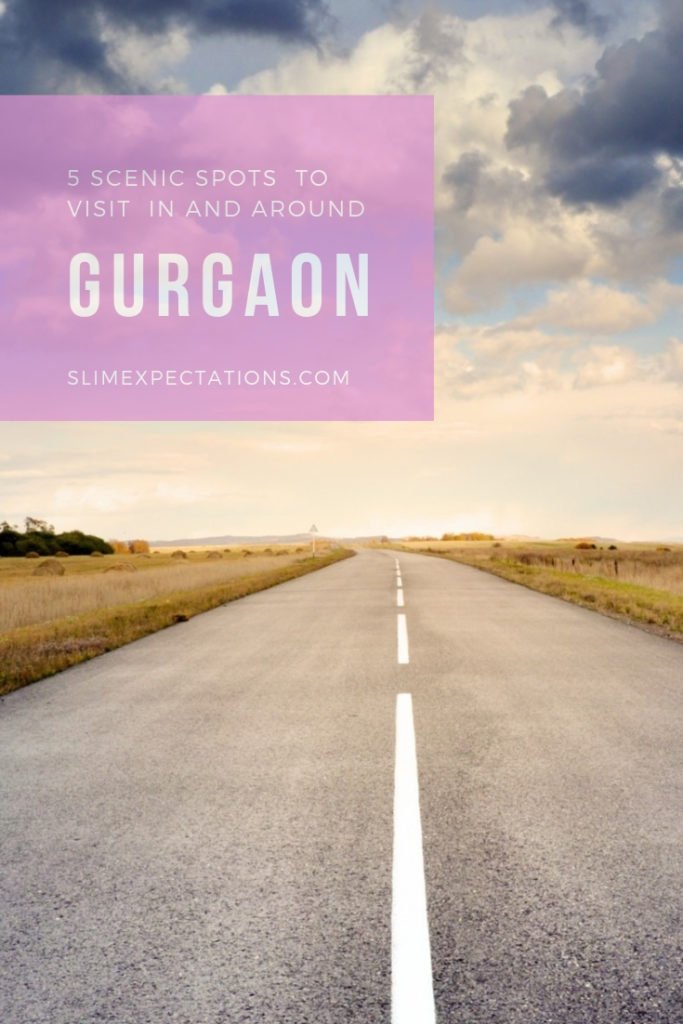 Disclaimer: This post is for educational purposes only. Please read our full disclaimer here.