Tailwind is one of the best investments; you can make for your blog or business. Why? Because as we know, Pinterest is an amazing search engine and Tailwind helps you schedule your pins.
So, before we dive into Tailwind, a brief intro  Pinterest.
What is Pinterest?
Pinterest – is a search engine and an is an incredible tool way to drive traffic to your website. Your pins should be pretty and catchy. As it's a visual platform.
Did you know that Pinterest has keywords too?
That's for another post.
For now, let's focus on how to use Tailwind! And how to get maximum traffic, using it.
What is Tailwind?
Tailwind is a scheduling app for Pinterest and Instagram. Today, we discuss how to use the free version (free trial) for scheduling your pins.
It will pin for you daily. So, you do not need to manually sit and pin daily. Plus, it pins at the most optimal time.
My pins have been doing really well, and I owe it big time to Tailwind. It was very intimidated in the beginning for me, but now I'm almost like a pro.
I have shared the steps in  pictures below:
I took a class on Pinterest and Tailwind from Shailaja, and if you are looking for one on one explanation she's your person. You can check out her blog here.
I have shared three pictures below:
The first is from February, and it shows zero activity on my Pinterest.
Second, is from July, when I started using Tailwind, but not as regularly.
Now, have a look at the analytics from Pinterest, in the October – November. Also adding, Goole Analytics below.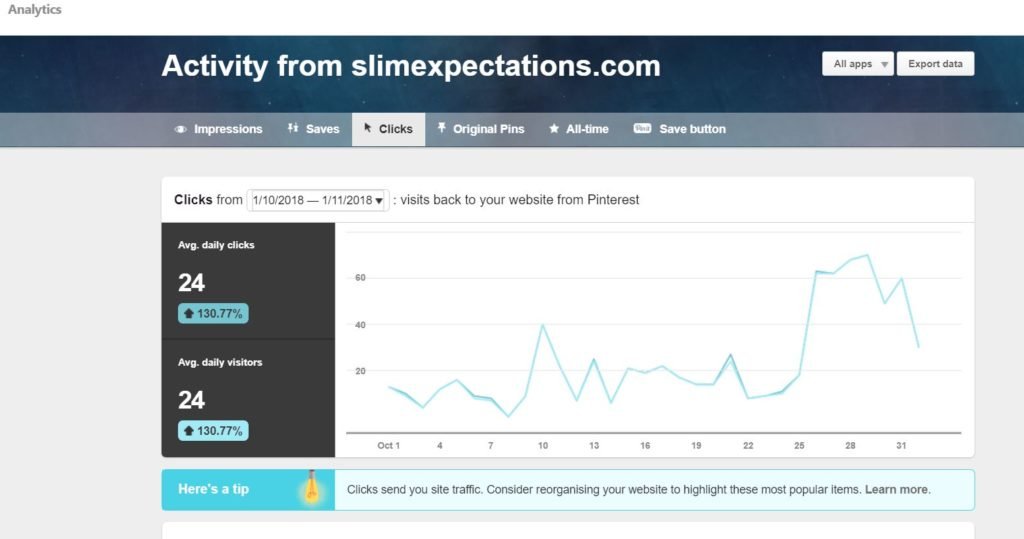 What Tailwind Does?
It helps you scheduled your pins, so you need not use Pinterest daily. Although it's still advisable to use Pin daily, which I have not been too active with it.
Trust me, my traffic literally exploded using Tailwind.
How Does Tailwind work?
Well, Tailwind changed my Pinterest game.  Which in return helped get more traffic on my blog. How? Please read below:
As bloggers, we all join pods and end up spending a lot of time commenting on each other's posts.
Now, I spend two-three days a month, making attractive "pins". It's advisable to allocate,  to make 10 pins three days a week. The fourth you sit and schedule the pins. 
Of course, this is how I do, but please do as you would like.
But, let me warn you – the first few days might look a bit overwhelming, however, once you get the hang of this tool,  it gets easier. 
Do this daily, without fail. At times, I slack and see an immediate drop on traction.
The next day I do all the keyword research, and upload the pins directly to, Pinterest.
Now, once all the pins are uploaded, I just need to go and schedule them. And, that is the end.
Join Tailwind now using my referral link here. This will be a one month trial period. 
Keep reading to know, how to join and skyrocket your traffic using Tailwind.
This post contains affiliate links, which means if you buy the product I may receive some monetary compensation. I only recommend products I use and love! Thank you for your support!
How to use Tailwind
I have explained how to use tailwind, in the following steps.
Download the Chrome Extension for Tailwind. And, to schedule a pin first, you need to go to Pinterest.
Go to your pin, in your Pinterest account, that you want to schedule.  Use the chrome extension for tailwind click on schedule.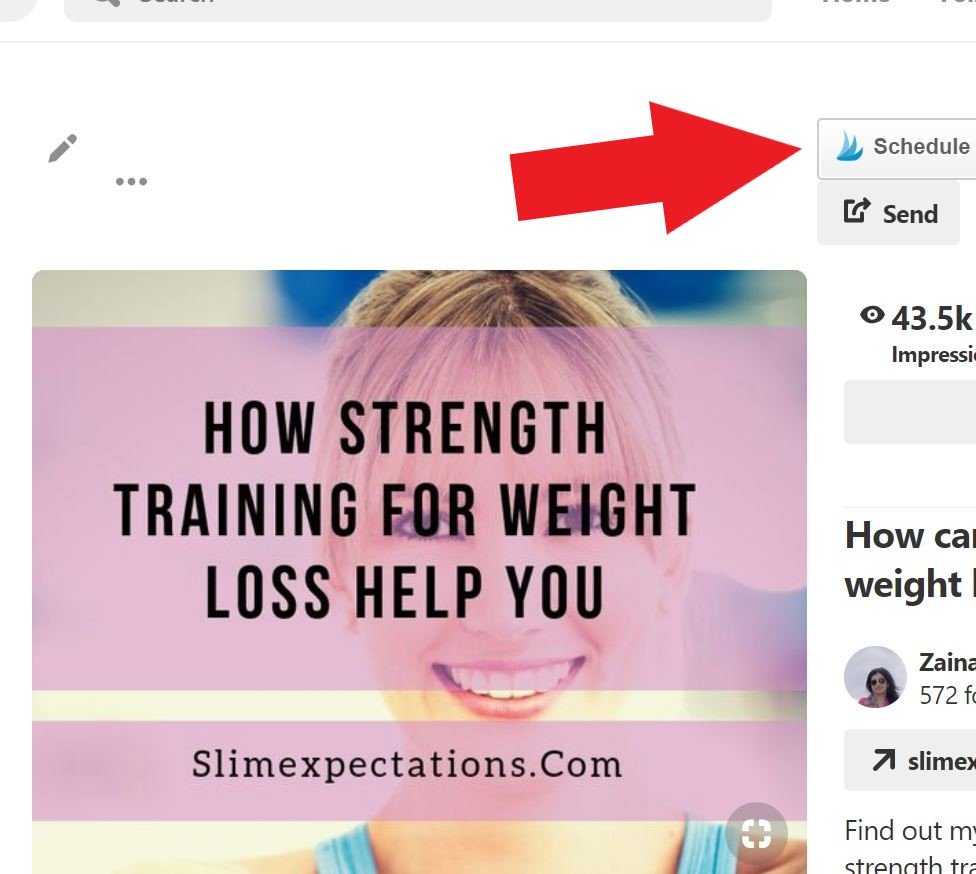 Now, this will take you to a new window. 
Next, you need to click the board name
All the boards will appear, once you click
Choose the relevant board (what your pin is about)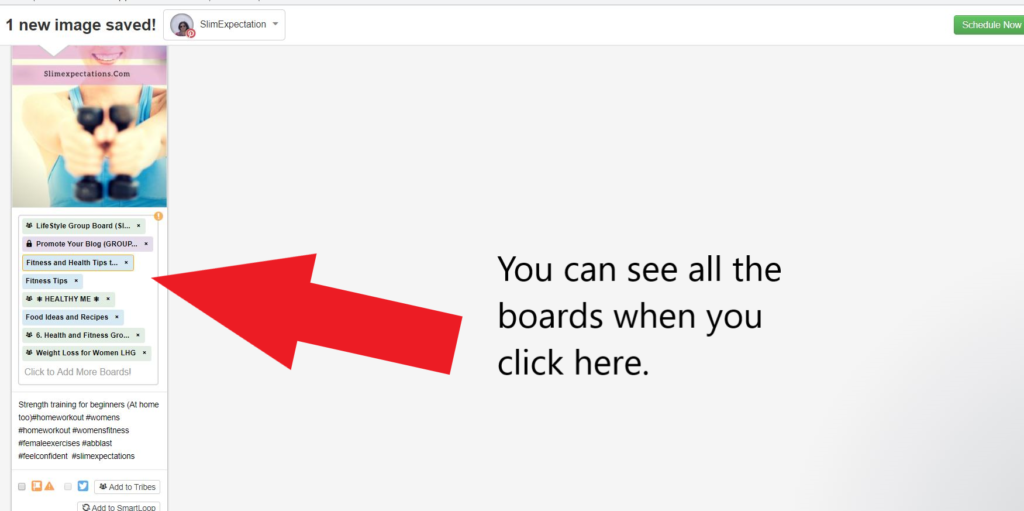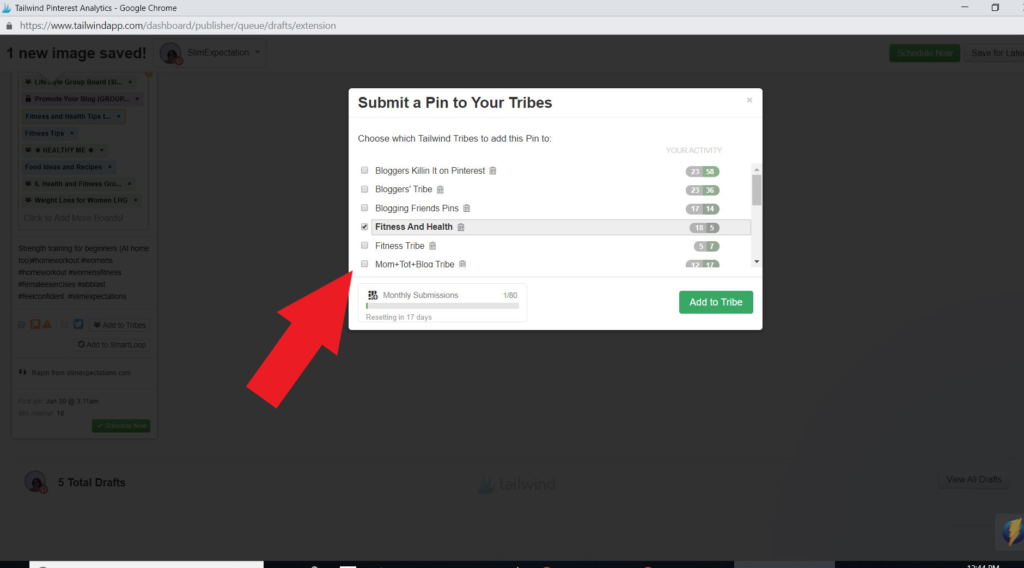 Next step is very important. Before you actually schedule, remember to click on "set interval" so that the pins are not bombarded in one single say.
Then you just hit schedule, and you are good to go. Tailwind will "select" time by default when your audience is most active.
I really hope that you all enjoyed the post and more importantly, understood how important it is to use Tailwind, for Pinterest. It works for bloggers, businesses etc.  Sign up using my referral link here. However, please note this will be a trial period for one month only.
Disclaimer: This post referral links. If you click through and take action, I'll be compensated. Please read my full disclosure here.